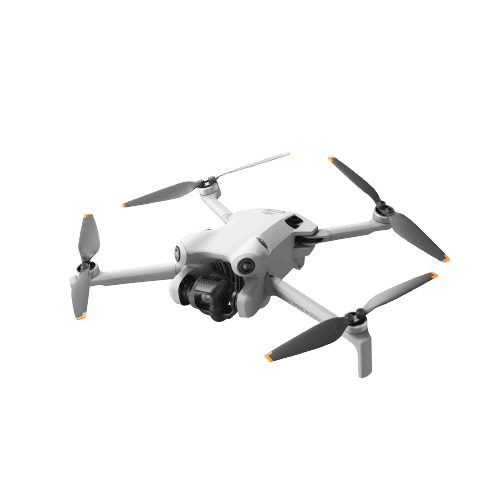 DJI Mini 4 Pro
The DJI Mini 4 Pro is the ultimate mini camera drone, offering impressive 4K/60fps HDR shooting, omnidirectional obstacle sensing, and a remarkable 20km FHD video transmission range. Weighing less than 249g, it's designed for portability and convenience, making it a top choice for both enthusiasts and professionals looking for exceptional aerial photography and videography capabilities.
DJI Inspire 3
The DJI Inspire 3 is a high-performance camera drone designed for professionals and enthusiasts alike. With its 4K/60fps HDR shooting capabilities, omnidirectional obstacle sensing, and an impressive 20km FHD video transmission range, it sets a new standard for aerial photography and videography. Despite its powerful features, the Inspire 3 remains lightweight, weighing under 249g, ensuring portability and convenience on every mission.
DJI Osmo Action 4
The DJI Osmo Action 4 is a compact and rugged action camera with a dual-screen design for effortless framing. It excels in capturing 4K video at 60fps, offering superb clarity and stability even during high-speed activities, thanks to RockSteady stabilization technology. With voice control and various shooting modes, it's the ideal choice for adventurers and content creators seeking top-notch action footage.
DJI RS Mini 3
The DJI RS 3 Mini is a compact gimbal stabilizer that provides remarkable stability and control for a variety of cameras, enabling smooth and professional videography. Packed with advanced features like active track, intelligent modes, and a user-friendly touchscreen, it empowers filmmakers and content creators to capture cinema-quality footage effortlessly.
LiteBee Wing
The LiteBee Wing is an educational drone kit designed for learners of all ages, offering a hands-on experience in programming and drone piloting. Its modular design and user-friendly features encourage interactive learning and creativity. With a robust main control board and compatibility with LED lights and buzzers, users can explore programming through the LitebeeGo App. This educational tool provides a dynamic and engaging way for students to simultaneously master programming while grasping the basics of drone flight.
DJI Matrice 350 RTK
The DJI Matrice 350 RTK is a professional-grade drone engineered for precision tasks in various industries. With its advanced RTK technology and versatile payload options, it empowers users to achieve high-accuracy mapping, surveying, and inspection missions. Whether you're a surveyor, inspector, or researcher, the Matrice 350 RTK delivers the reliability and performance needed for your most demanding aerial projects.
Explore our range of DJI Enterprise drone solutions.
DJI Agras T40
The DJI T40 is a compact and versatile agricultural drone designed to optimize crop management. With its efficient imaging system and precise data collection capabilities, the T40 empowers farmers to make data-driven decisions, enhance crop yields, and reduce operational costs. Explore the future of precision agriculture with the DJI T40.
Explore DJI Agriculture drones for smart farming.